Cancer treatment
You may feel scared, stressed or overwhelmed by the prospect of starting cancer treatment. Everyone is different, every case is different, and your recommended course of action will depend on your doctor's advice, your general health, and your own choices.
Our role is to support you throughout the treatment process and alleviate any uncertainty. It's completely natural to feel anxious during this time, but with the right support, we will help you through this difficult time.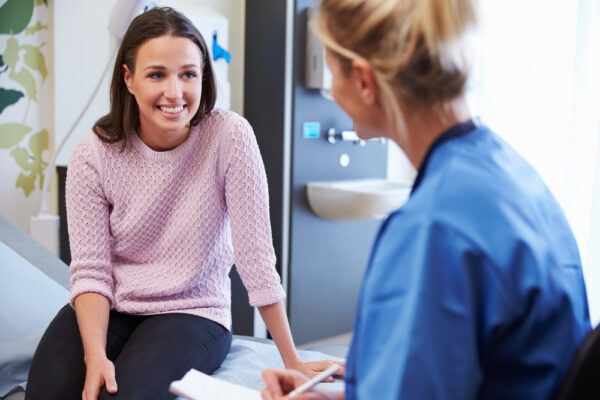 ---
What kind of treatment for cancer is available?
Remember – not all cancers need treatment straight away, and with some types, doctors may put you under 'active monitoring' with regular check-ups. 
Treatment options aim to achieve one or more of the following:
Relieve symptoms

Slow tumour growth 

Cure the cancer.
Depending on the kind of cancer and the stage you're at, your doctor will recommend one or more of these cancer treatments.
---
Cancer treatment options
Surgery
This will involve an incision to remove the cancerous cells, and may be followed up by radio or chemotherapy to ensure there are no remaining cells. This is common in cancers such as breast cancer. 
Chemotherapy
Chemotherapy involves intravenous injections of drugs, often called 'cytotoxic' drugs to attack the cancerous cells. Therapy sessions are spread over a number of weeks.
Radiotherapy
Radiotherapy is used to shrink tumours or relieve symptoms. It involves high energy x-rays pointed at the cancer site, and may follow other treatments like surgery. Our free minibus service provides transport to St James's Hospital in Leeds for this treatment.
---
Hormonal therapy
Hormone therapy may be effective for cancers that rely on hormones to develop, such as breast, ovarian and prostate cancer. Its efficacy depends on the stage of your cancer. 
Targeted therapy
Also known as biological therapies, these interfere with the way that cancer cells grow. They are most often used in ovarian and blood cancers.
Clinical trials
Your doctor may want to discuss clinical trials with you, which help to find new cancer treatment options. To find out about current clinical trials, visit Cancer Research UK or the UK Clinical Trials Gateway. This offers more information about how trials work, and how you can take part.
---
What to expect
After your initial diagnosis, you may need to have further tests and consultations to determine the stage and grade of your cancer. 
If your referral is urgent, your hospital will aim to start treatment as soon as possible, usually:
Within 31 days of being diagnosed and deciding to start treatment, or

Within 62 days of your GP referral (whichever is sooner).
---
How to make sense of your hospital appointments
Your hospital appointments will give you the chance to discuss any concerns or questions you may have. It's best to write a few questions down beforehand, and keep notes for yourself and your family.
Remember, the healthcare team is there to help you and offer the best advice. They'll also offer guidance on local and national support for you and your loved ones.
---
Your healthcare team
Clinical nurse specialist (CNS)
After your diagnosis, you will be offered a support network with a clinical nurse specialist, who is trained to deal with your specific type of cancer. This specialist will become your main contact throughout your hospital treatment.
Multi-disciplinary team (MDT)
While the CNS forms part of the multi-disciplinary team, this also comprises a range of radiologists, consultants and pathologists, all of whom are involved in your treatment.
---
Here when you need us
At York Against Cancer, we understand the impact that cancer treatment can have on your life, from lifestyle changes to side effects. If you're concerned about side effects, you can talk to your healthcare team. Alternatively, please contact us.
Need to contact us?
Call us on 01904 764 466 or email office@yorkagainstcancer.org.uk and one of our friendly team will be happy to help.
---