Professor Jenny Southgate
As Director of the Jack Birch Unit, Professor Jenny Southgate is most proud of two pieces of research the unit has undertaken – one of which is a study that has been a major advance for both cancer research and tissue engineering.
"A discovery we have made researching cell tissue has been really important for understanding how cells change in cancer, and has also opened possibilities of cell therapies in patients with diseased bladders," said Professor Southgate.
The research has been patented and the unit is working with collaborators across Europe to interpret the findings in terms of the development of cancer.
However the woman who leads York Against Cancer's ground-breaking research at the University of York isn't a typical research scientist. Growing up, Professor Jenny Southgate didn't have a clear career plan. It was only when she was undertaking her O-Levels that she became interested in biology and 'how cells worked'.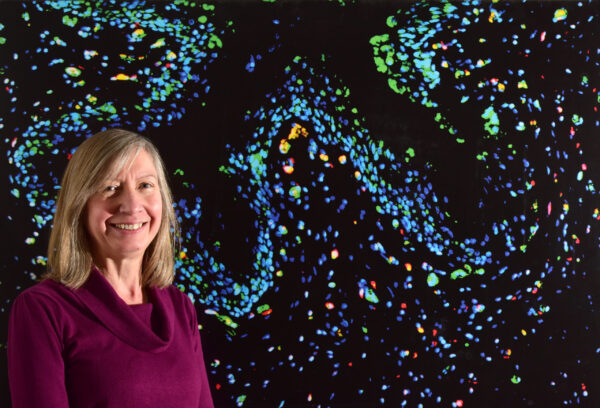 ---
Working with the Imperial Cancer Research Fund
After taking her A-Levels, Professor Southgate decided against going into higher education, leaving school at 18 to start work as a research technician. She remembers watching Panorama and seeing a programme where a lab was growing cells in tissue culture, before writing to six labs to ask if they had any jobs.
After receiving six job offers, Professor Southgate accepted a position at the Imperial Cancer Research Fund labs in London.
"It was a junior technician's job and I learned a lot about cancer from working in a lab," she says. "I became fascinated by how cells grow. I got involved in using antibodies to study the building blocks of cells – all very new techniques at the time.
"It is just amazing when you look at the structure of cells at the microscopic level, finding the forms and structures present in individual cells – the basic unit of life…growing them in the laboratory and finding the basis of what makes cells tick and go wrong."
---
Moving to the Jack Birch Unit
Professor Southgate decided to study on a day-release course for an HNC and later a degree equivalent qualification. She went on to complete a part-time PhD.
She heard about a new cancer research institute that was being established at St James's University Hospital. She moved to Leeds to take up what was originally a two-year postdoctoral position.
In Leeds, Professor Southgate was able to develop her interest in cells from the bladder lining, or urothelium, through ready access to human surgical samples from the hospital.
Collaborations with scientists at the University of York followed and eventually she was approached about applying for a Chair position in York. After interviews, she made her move to the Jack Birch Unit in 1999.
Find out more about the Jack Birch Unit here.
---