Pioneering research into bladder cancer
The five-year £1m commitment from York Against Cancer to the University of York's Jack Birch Unit is helping Professor Jenny Southgate and her team in a range of projects that are expected to help better understand bladder cancer and lead to improved treatments.
The unit collaborates with cancer research scientists across the world and Professor Southgate is often asked to share its findings at international seminars and conferences.
The goal of the Jack Birch Unit
The goal of the Jack Birch Unit is to 'make a difference to the lives of people by reducing the incidence of cancer or providing better treatments'. Its research is investigating how the urothelial cells that line the inside of the bladder work together to form a protective barrier that is able to withstand constant exposure to urine.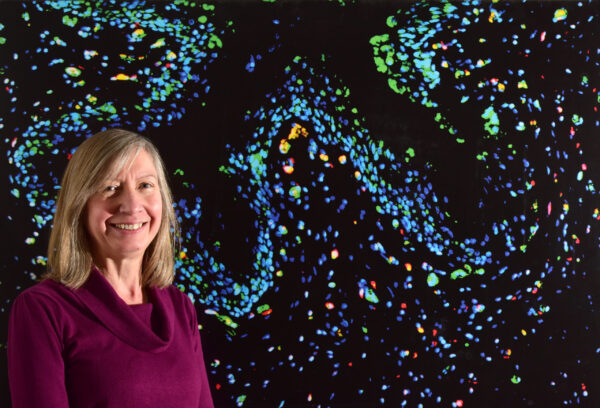 ---
Why bladder cancer happens
The urine contains harmful substances for excretion from the body, including possible cancer-causing carcinogens, and the urothelium is important in providing a urinary barrier that is able to repair itself.
Cancer happens when this self-repairing ability goes out of control and cells overrule the control signals (the "brakes") to become cancerous.
Using its unique experimental systems to grow and study normal urothelial cells in the laboratory, the research team is tracking down the control switches involved in urothelial repair. By targeting these with drugs, a cancer should be stopped from growing or spreading.
The team is also looking at the toxins in urine that cause bladder cancer. In particular, it is looking at why Yorkshire has such high rates of aggressive bladder cancers, in order to reduce risk in the environment and the workplace.
---
Learning more about bladder cancer
By learning about urothelium, the unit can also help with treatments of other (non-cancer) diseases of the bladder and kidney. Other work involves studying how to rebuild bladders after cancer or other diseases using 'tissue engineering' techniques.
This research is at an advanced stage and the unit has recently started working with clinicians from the Great Ormond Street Hospital for Sick Children to take its laboratory findings forward for patients.
Find out more about the Jack Birch Unit here. 
---
---
Need to contact us?
Call us on 01904 764 466 or email office@yorkagainstcancer.org.uk and one of our friendly team will be happy to help.
---