What are the benefits of quitting smoking? 
The benefits of quitting smoking start from as little as 20 minutes after putting out a cigarette. Your pulse rate will return to normal, and after eight hours, levels of harmful carbon monoxide in the blood will have reduced by half.
In two days, your blood will have flushed out all carbon monoxide, and by day three, you'll have more energy. In as little as two weeks, your circulation will improve, encouraging better movement.
Later on, you'll also see improved lung function of up to 10%, as well as a reduced risk of cancer, heart attack and developing Chronic Obstructive Airways Disease (or Emphysema), a life restricting respiratory condition.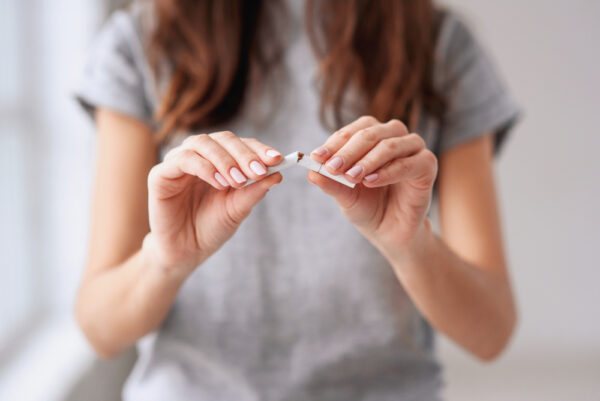 ---
Smoking and cancer: the facts
Other than all of the above health benefits, quitting smoking also massively improves your chances of not contracting certain cancers. For example:
In 2011, smoking accounted for 51.5% of cancer deaths in men and 44.5% in women

Up to 80% of lung cancer deaths are caused by smoking

Smoking is the cause of 77% of larynx cancers

Half of all mouth, throat and bladder cancers are caused by smoking

A quarter of cervical and liver cancers are attributed to smoking.
Smoking can cause 15 different types of cancer due to the chemicals that enter the bloodstream. Those most at risk are those who smoke for a long period of time – for example, it's more dangerous to smoke a pack a day for 40 years than two packs a day for 20. 
---
What is the best way to quit smoking?
The good news is that there are countless ways to quit, and a whole lot of support to help you do so. People smoke for different reasons – some when they're stressed, some when socialising, and some just out of habit.
It's important to understand what makes us reach for a cigarette. That way, we can train ourselves out of the habit.
The following stop-smoking aids are recommended by the NHS:
Prescription tablets
Known as Champix or Zyban, you can start to take these two weeks before you commit to giving up smoking. Zyban can reduce cravings, while Champix reduces cravings and the effects felt, i.e. the 'nicotine rush'.
Note that these are available on prescription only and you'll need to take them for up to 12 weeks. They're not suitable for pregnant women, those under the age of 18, or those with certain medical conditions.
---
Nicotine replacement therapy 
These come in many forms such as:
Patches

Inhalers

Nasal sprays

Lozenges

Gum

Microtabs.
You can buy these over the counter and slowly wean yourself off over a period of 12 weeks. While nicotine is addictive, it is far less harmful than when combined with the chemicals in a cigarette. For best results, you should try combining products.
---
E-cigarettes
Otherwise known as 'vapes', these are a 'halfway house' between smoking and quitting. It's important to remember that these are not risk-free, and do contain harmful chemicals. However, it's estimated that there are 95% fewer chemicals in e-cigarettes than traditional cigarettes. 
These may help to mimic the habit of smoking a cigarette as you wean yourself off. They are not available on prescription, but are purchasable from specialists, who also sell e-liquid.
---
Getting started with quitting
Remember – quitting smoking is a test of mental resolve as much as it is physical. To start on the right track, you should write down why you want to quit.
Motivations could range from your health to the cost saving. You can see how much you could save using this calculator from the NHS.
Tell friends
A problem shared is a problem halved. Tell friends and family that you're quitting, and they will support you when cravings hit.
Change up old routines
If smoking is habitual, for example, a cigarette after breakfast, then change your routine. Make a plan to replace smoking with a productive task.
---
Keep yourself distracted
Taking up an exercise routine, seeing friends or picking up old projects can all help to take your mind off smoking.
Use technology
There are many apps that encourage positive reinforcement. NHS Smokefree, for example, lets you track your progress and gives you incentives, like cost-saving reminders. You can also join Facebook groups or sign up for email alerts.
Don't be hard on yourself
Remember – everybody stumbles. Pick yourself up and try again. If something is getting on top of you, it's better to have one slip-up than risk putting your body through more stress. 
Try to control cravings by planning ahead, for example, if you know you have an event coming up that makes you anxious.
---
Talk to us
At York Against Cancer, we're massive believers in changing your lifestyle for the better. Stopping smoking, getting active and improving our diet is something we should all be doing. You can find lots of resources on improving your health on the NHS website, or feel free to contact us.
Remember, we're here for you, get in touch if you would like our help.
Need to contact us?
Call us on 01904 764 466 or email office@yorkagainstcancer.org.uk and one of our friendly team will be happy to help.
---